Lisa Holderby grew up in the quaint, suburban, college town of Huntington, West Virginia. As a child, she loved to ramble in the countryside, away from the city, spending most of her free time with relatives who lived on a farm in the Appalachian country.
She fell in love with its peacefulness, natural landscape, and especially the animals which resided there. These delightful animals grew in character and behavior as the years progressed. They assumed the role of family pets and all were lovingly tended to.
Lisa developed a particularly strong bond with her collie dog, Duke and her Aunt Gaby's pony, Prince. All she wanted to do was care for and ride Prince. During her teenage years, her relatives sold the farm and moved to the city but Lisa's love for horses only grew stronger.
In 2004, Lisa moved to New Jersey to a home with acreage and stables suitable for  horses. At the time, she was interested in buying a domestic horse until she watched the PBS series "Cloud" documenting a herd of wild horses in The Pryor Mountains.
She was taken by their spirit and beauty and appalled by their plight. She decided it would be best to adopt a wild mustang rather than buy a domestic horse from a breeder.
In 2005 she took a leap of faith and, based only on a few photographs of a scrawny filly, adopted a horse from The Bureau of Land Management.
The experience of bringing a wild horse into her family has been extraordinarily life changing. The trust that is involved with both human and horse builds an amazing bond that is rewarding and unforgettable.
Lisa was so moved by the experience that she wanted to give something back to the wild horses and the people who rescue them. She wrote a children's story based on personal experience and donated a portion of the proceeds to the non-profit United States Wild Horse and Burro Association.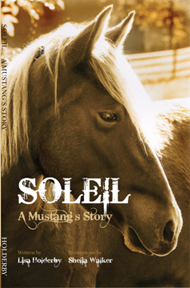 These legendary horses are a symbol of our national identity and an important part of our American heritage. Much like the bald eagle, they should be protected and preserved.
 Lisa Holderby hopes her books will tell their story and help find homes or sponsors for the thousands of wild mustangs and burros that are in need.
Lisa has since written a second book called Soleil's Journey Home.
The sequel to Soleil, A Mustang's Story continues when Soleil is brought back to where she was captured in Wyoming.
Elizabeth, Emily and a wrangler named Michael ride in the back country of the Rockies in search of Soleil's herd. Elizabeth was not prepared for the turn of events that happened.
In a surprising moment, Soleil breaks free and escapes with the wild Mustangs. Through dangerous terrain and unpredictable weather, Elizabeth, Emily and Michael search for Soleil, Elisabeth's beloved horse.
Since I was asked to create the art for Lisa's books, I decided I needed to meet the Mustang that inspired the books. I flew to New Jersey to visit Lisa and Soleil and had a great time.
It had been a while since I had a chance to ride a horse and I felt very comfortable with Soleil. She has a gentle spirit despite the fact that she was a wild mustang.
You can find my art for the books in my gallery and the prints  at Fine Art America.
I will be showing you how I created the illustrations for the books in a future blog, so join my mailing list if you are interested in reading about my dry brush technique.